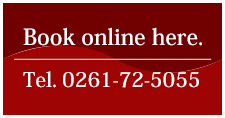 Aiming for a sustainable hotel Hakuba is working toward the realization of mountain ecotourism that grows with nature.
We will tackle positively what we can do as a hotel.
May the world of the future be filled with the smile.

<What Dancru want to work on & what Dancru are working on>
・Waste reduction
  Installation of sorting box for recyclable product
  Stop using disposable toothbrushes
  Stop using plastic straw
  Recommend to bring handkerchiefs and towels
  Return the kitchen waste to the soil with compost
・Proposal of air conditioner preset temperature Heater 20 degrees, A.C 28 degrees (Recommended by the Ministry of the Environment)
・Firewood / pellet fireplace
・Floor heating in all rooms
・Double-glazed windows (insulation / silence effect)
・Installation of electric vehicle outlet
・Uses energy-saving LED lights throughout the building
・Shuttle car: Use electric car
・Others ... Start with what we can do

Hakuba Village declared "Hakuba Village Climate Emergency Declaration" in 2019 and "Zero Carbon City" in 2020. We have responsability to leave this beautiful planet and Hakuba, which is now commonplace, 10 years later, 30 years later and even100 years later for our offspring generations.
We ask for the understanding and cooperation of SDGs Challenge and visitors to the village.

Click here for more information on SDGs challenge in HAKUBA VALLEY.

Dancru Netz

Available pick-up time from Bus terminal
and Hakuba Sta. is from 9 a.m. to 5 p.m.
Please use the taxi for outside hours.
(We can't pick-up within service hours depending on the situation)

Please use the free shuttle buses to the each ski areas.
Bus stop is under 1 min. away by foot from Dancrunetz.

Meals are provided in full-course.


We offer various styles - French, Italian, Mexican, etc. All dishes are home-made with select ingredients to for an excellent dining experience.
Our specially prepared rice.


We offer "Koshihikari" brand rice, grown in Matsukawa, Azumino,
which is delicious and safe.
Exquisite desserts.


Our colorfully decorated desserts are popular among our female guests. All of our deserts are handmade and are different daily. They are perfect way to finish your dinner.
| | |
| --- | --- |
| July 1981 | "Dancru Lodge" opened. |
| March 1990 | Our chef started the 10-year training in Yokohama. |
| May | 1st Dancru Cup was held. (Held twice a year in May and October.) |
| October 1993 | Cottage opened. |
| October 1997 | Went online for the first time with a webpage. |
| August 1998 | Last day of Dancru Lodge as the building was demolished for renewal. |
| December 1998 | Reopened as "Land Haus Dancru Netz", with an addition of new chef. |
| October 1999 | Our new chef started his training in Paris, France. |
| May 2000 | 1st Dancru Bass Fishing Tournament was held. |
| February 2001 | Our young chef married. |
| December | First son was born. |
| July 2003 | Second son was born. |
| December 2004 | Cafe'de Dancru opened in Totsuka-ku, Yokohama. |
| August 2010 | Third son was born. |